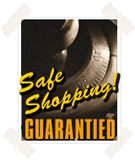 Bulfinch's Mythology: The Age of Fable
by Thomas Bulfinch
Narrated by Barry Cooper




ABC Online Price $14.95

Includes Shipping & Handling in the U.S.

Availability: Ships in 24 Hours

Format: 2 Audio CDs / Unabridged
ISBN: 0-89926-173-6
Item No: CU2-170



Order This Book!







Secure Order Guarantee



Description

For almost a century and a half, Bulfinch's Mythology has been the text by which the great tales of the gods and goddesses, Greek and Roman antiquity; Scandinavian, Celtic, and Oriental fables and myths; and the age of chivalry have been known.

Bulfinch wrote, "Without a knowledge of mythology much of the elegant literature of our own language cannot be understood and appreciated." Our cassettes tell the stories of mythology selected from the Age of Fable, in such a manner to make them a source of amusement. Thus, we hope to teach mythology not as a study but as a relaxation from study.

On the first CD we offer the introduction to the stories, Prometheus and Pandora, Apollo and Daphne, Venus and Adonis, Apollo and Hyacinthus, Cupid and Psyche. On CD two you will find Echo and Narcissus, Minerva, Niobe, the Graeae and Gorgons, Medusa, Perseus, Atlas, The Golden Fleece, Jason, and Hercules.





About the Author

Thomas Bulfinch, in his day job, was a clerk in the Merchant's Bank of Boston, an undemanding position that afforded him ample leisure time in which to pursue his other interests. In addition to serving as secretary of the Boston Society of Natural History, he thoroughly researched the myths and legends and copiously cross-referenced them with literature and art.




Find Books with Similar Themes

Other Classic Audio Books




Find Books with the Same Narrator

Other Audio Books narrated by Barry Cooper



A Rumor of War