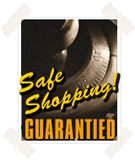 The Call of the Wild
by Jack London
Narrated by Jeff Chandler




ABC Online Price $14.95

Includes Shipping & Handling in the U.S.

Availability: Ships in 24 Hours

Format: 3 Audio CDs / Unabridged
ISBN: 0-89926-123-X
Item No: CU4-186



Order This Book!







Secure Order Guarantee



Description

Published in 1903, The Call of the Wild is one of London's most-read books, and it is generally considered one of his best.

This great adventure novel is the story of Buck, a dog abducted from his home in Northern California and thrust into the merciless world of the Arctic north to be trained as a sled dog. It is the story of desperate men and the lure of new-found gold in the 1890's Klondike Gold Rush.

To survive on the outer edges of civilization, Buck mustendure the bitter cold and treacherous landscape and adapt to the savagery of a life ruled by the laws of club and fang. In the process, his natural killer instincts, made dormant by his brush with civilization, awaken. He must answer the lure of a strange and age-old call.





About the Author

Jack London was born in California in 1876 with a longing for fame and adventure. At fourteen he went ot work in a cannery. At fifteen he borrowed $300 and went to work for himself – as an oyster pirate in San Francisco Bay. At seventeen he hired out on a schooner bound for Japan.

Returning from the sea, London continued his search for fulfillment by tramping across America, and at nineteen started to write. But it wasn't until he came back from the gold fields in 1898 that his fabulous career really began. He carried no gold back with him, but the material in his notebooks was worth more than yellow dust. It brought him the success as an author he had always yearned for.

Jack London's work is known and loved the world over. His books are considered among the great classics of American literature. And The Call of the Wild is generally considered, the best of them all.




Find Books with Similar Themes

Other Classic Audio Books




Find Books with the Same Narrator

Jeff Chandler (1918 - 1961) He was everyone's idea of the strong, noble hero, however, his film debut was a gangster in Johnny O'Clock. Although his career was cut short by his tragic death at a young age, he was a prolific actor hitting his stride in the 1950s becoming a star making westerns and action pictures. His had a distinctive voice that ads to his performance of this classic tale.

Other Audio Books narrated by Jeff Chandler:



The Adventures of Tom Sawyer