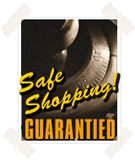 The Wonderful Wizard of OZ
by L. Frank Baum
Narrated by Marvin Miller and Jane Webb




ABC Online Price $23.95

Includes Shipping & Handling in the U.S.

Availability: Ships in 24 Hours

Format: 3 Audio CDs / Unabridged
ISBN: 0-89926-138-8
Item No: JU4-616



Order This Book!







Secure Order Guarantee



Description

Follow the adventures of Dorothy and her Dog Toto as they are swept by tornado from their Kansas home to the colorful land of Oz in the unabridged reading.

You will be delighted as they venture along the Yellow Brick Road with Scarecrow, Tinman, and the Cowardly Lion. Their search for the Emerald City is threatened by the Wicked Witch. It is only the Great and Powerful Oz who can help Dorothy return to her Kansas homeland.

This fine book by L. Frank Baum will enchant listeners of all ages and provides more than three hours of listening pleasure. The Wonderful Wizard of Oz is brought to life through the combined performance of Marvin Miller and Jane Webb.





About the Author

Lyman Frank Baum (15 May 1856 – 5 May 1919) was an American author, poet, playwright, actor and independent filmmaker, best known today as the creator, along with illustrator W. W. Denslow, of one of the most popular books in American children's literature, The Wonderful Wizard of Oz. He wrote thirteen sequels, nine other fantasy novels, and a plethora of other works (55 novels in total, 82 short stories, over 200 poems, an unknown number of scripts, and many miscellaneous writings), and made numerous attempts to bring his works to the stage and screen.




Find Books with Similar Themes

Other Children's Audio Books




Find Books with the Same Narrator

Other Audio Books narrated by Marvin Miller (1913-1985):



Treasure Island

The Best of O. Henry Volume 2

The Best of Mark Twain

Edgar Allen Poe's Tales of Mystery & Imagination

The Adventures of Pinocchio