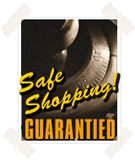 Seven Keys to Baldpate
by Earl Derr Biggers
Narrated by Marvin Miller




ABC Online Price $14.95

Includes Shipping & Handling in the U.S.

Availability: Ships in 24 Hours

Format: 3 Audio CDs / Abridged
ISBN: 0-899226-157-4
Item No: MA2-485



Order This Book!







Secure Order Guarantee



Description

Earl Derr Biggers is best known as the creator of the inscrutable master detective Charlie Chan. His first novel (1913) however, was a mystery set in a resort in up-state New York.

Baldpate Inn on Baldpate Mountain is supposed to be closed for the winter. A famous writer, William Magee, is looking for some peace and quiet in order to finish a novel and takes a room at the Baldpate Inn. However, peace and quiet are the last things he gets, as there are some very strange goings-on at the establishment. Seven people have keys and each arrives looking for something special, including a mysterious package.

Seven Keys to Baldpate is a mystery that will leave you guessing to the end.





About the Author

Earl Derr Biggers (August 24, 1884 - April 5, 1933) was an American novelist and playwright. He is remembered primarily for adaptations of his novels, especially those featuring the Chinese-American detective Charlie Chan. Biggers lived in San Marino, California, and died in a Pasadena, California, hospital after suffering a heart attack in Palm Springs, California.




Find Books with Similar Themes

Other Mystery Audio Books




Find Books with the Same Narrator

Other Audio Books narrated by Marvin Miller (1913-1985):



Treasure Island

The Best of O. Henry Volume 2

The Best of Mark Twain

Edgar Allen Poe's Tales of Mystery & Imagination

The Adventures of Pinocchio